---
For parallelisms, insitu collective presented two exhibitions that took place consecutively, both featured works by three artists: Eli Cortiñas, Ingo Mittelstaedt and Sam Smith.

With the desire to draw out different threads between the multi-layered practices of these artists, insitu invited an additional curator, An Paenhuysen, to see how shifts of curatorial perspectives can produce different exhibitions and ideas while working with the same trio of artists.
parallelisms: To Be Continued...
(install detail) 2015. Text by An Paenhuysen. Photo: insitu
PART 1 To Be Continued…

To Be Continued…, the first part of parallelisms, is an experiment in literary curating. It is inspired by the conversation that An Paenhuysen had with the insitu collective team via a blog format, where each curator consecutively posted an image that was a response to the preceding one. The chain reaction/cadavre exquis method of this blog turned into a body of visual research on the work of Eli Cortiñas, Ingo Mittelstaedt and Sam Smith.

Paenhuysen wrote a text based on this correspondence, which can be read as a loop. She then asked the artists to fill one blank page each by selecting a work that confirms, comments, opposes, ignores, hyper-affirms, or illustrates the text.
parallelisms: To Be Continued... (install detail) 2015. Curated by An Paenhuysen. Photo: insitu
Ingo Mittelstaedt
OXXXOXXXOXXOOOXOOXXOO
(detail) 2012/2013. Courtesy the artist and Galerie Koal. Photo: insitu
PART 2

For the second part of parallelisms, insitu collective explores a common thread between the artists that can be compared with a shift of focus: showing the back rather than the front, illuminating absence, or turning a negative space into a positive. Within their practices, the artists take a high interest in the apparatus and processes of their respective mediums of film and photography. They look at what is often left out of the frame and the potential for the lens to distort and manipulate its captured subjects. Thinking within the mindset of a camera, with a twist of their artistic lens they shift focus away from what would typically be the 'subject'.
Eli Cortiñas Confessions with an open curtain (still) 2011. Courtesy the artist, Soy Capitán, Berlin and Waldeburg Wouters, Brussels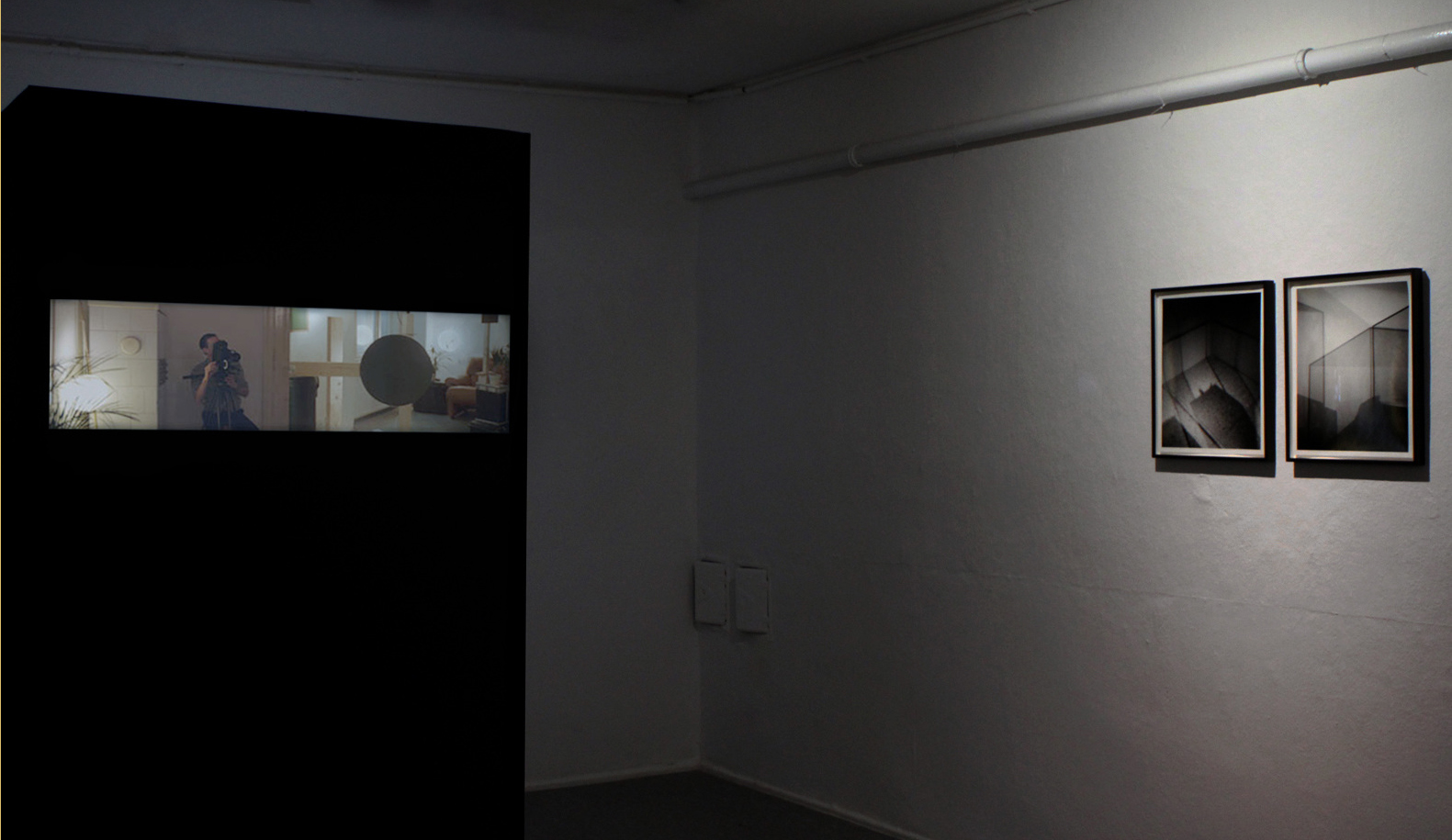 parallelisms: Part 2 (install detail) 2015. Curated by insitu collective. Photo: insitu
parallelisms: Part 2 (install detail) 2015. Curated by insitu collective. Photo: insitu
Ingo Mittelstaedt OXXXOXXXOXXOOOXOOXXOO (detail) 2012/2013. Courtesy the artist and Galerie Koal. Photo: insitu