Thinking Beyond the Final Frontier:
Cosmic Futures in Thailand
My Ph.D. research in the Social and Cultural Anthropology department of the Freie Universität, Berlin, investigates how futures beyond Earth are envisioned and planned for in Thailand today.
Thailand provides a unique context from which to consider outer space and humanity's potential role within it. It was only in 2013 that Thailand's first astronomical institute officially opened, however, space science and space entrepreneurism are rapidly expanding fields that play key roles in government agendas to shift the nation into a digital and 'innovation-led' economy. At the same time, Thailand's Buddhist and animist ontologies offer alternatives to pervasive colonial and Western metaphysical approaches to space exploration.
The concurrence of Thailand's fledgling space science and technology sector with overarching Buddhist and animist ontologies provide fertile ground for thinking through the countless ethical and philosophical questions about what space exploration and inhabitation mean for Earth's ecosystems, human and non-human populations, the existence of possible life in space, and the kinds of impacts we might have on the cosmos.
In my fieldwork, I focus on scientific, religious and artistic communities in Thailand to investigate in which key contexts outer space is discussed and visualised; how outer space and in particular our roles in space are imagined; what aspirations and concerns there are for human space exploration; and what historical, political or religious influences are found within conceptions of outer space.
The aims of this research are twofold: First, to explore the entanglement of futuristic cosmic imaginaries with a broad spectrum of socio-politics, cultural histories and religious influences in Thailand today. Second, to reflect on how Thailand's emergent space-focused communities might enrich and challenge questions about potentials of human life beyond Earth.
This research is supported by the
Emslie Horniman Scholarship
fund 2018
Photo taken at Bun Bang Fai, Yasothon, 2018. Courtesy Lauren Reid
---
Space Krenovation Park, Laem Chabang, Thailand
The
Space Krenovation Park
is home to the
Geo-Informatics and Space Technology Development Agency
(GISTDA),
Sirindhorn Centre for Geo-Informatics
(SCGI) and the
Space Inspirium
, a museum designed (as the name suggests) to inspire audiences about space travel and to understand the role of geo-informatics in developing present day Thailand.
For one week, I explored the museum and interviewed the director of the Krenovation Park. Here, Krenovation is a combination of the words Knowledge, Creativity and Innovation, the core values of GISTDA.
Photos taken at Space Krenovation Park, 2018. Courtesy Lauren Reid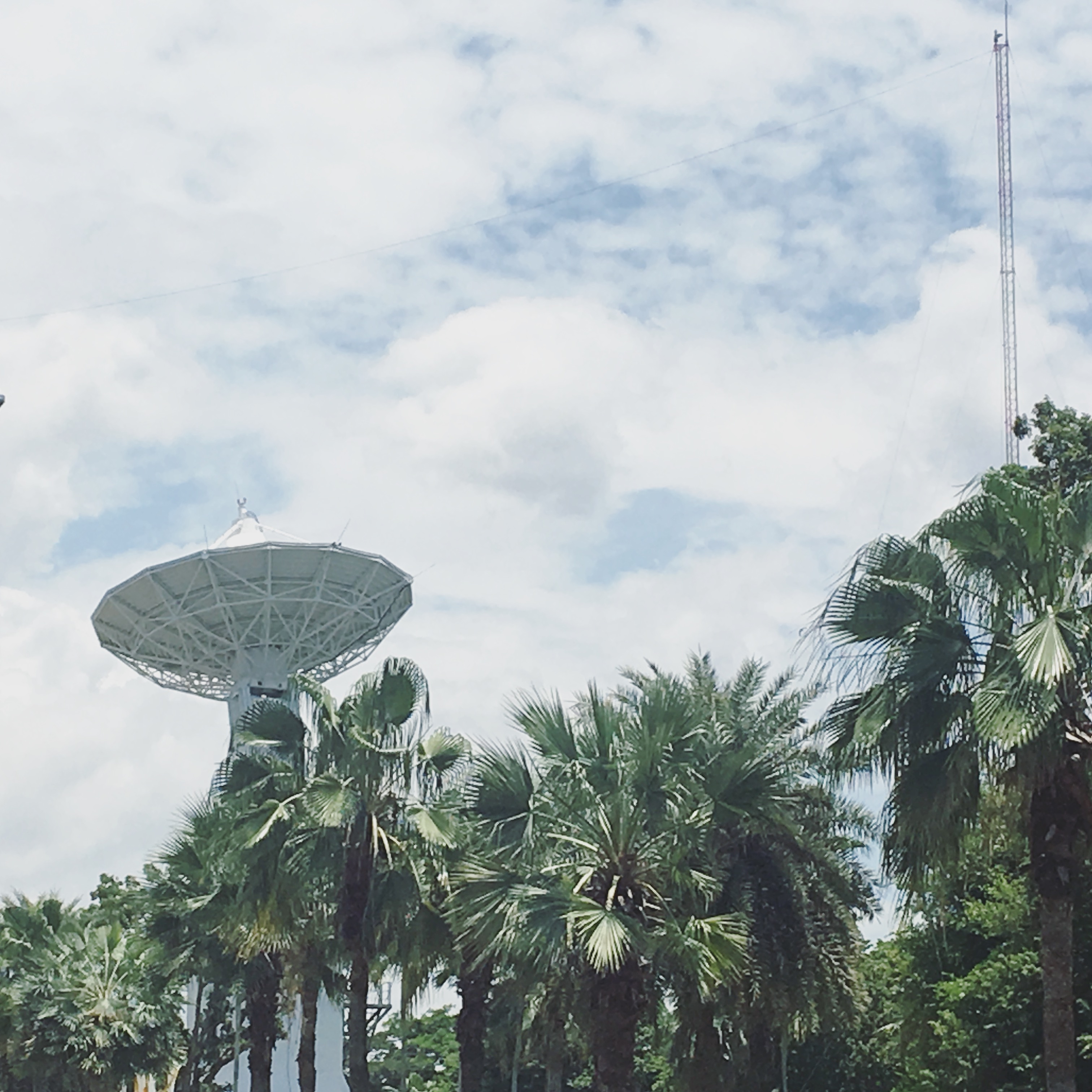 ---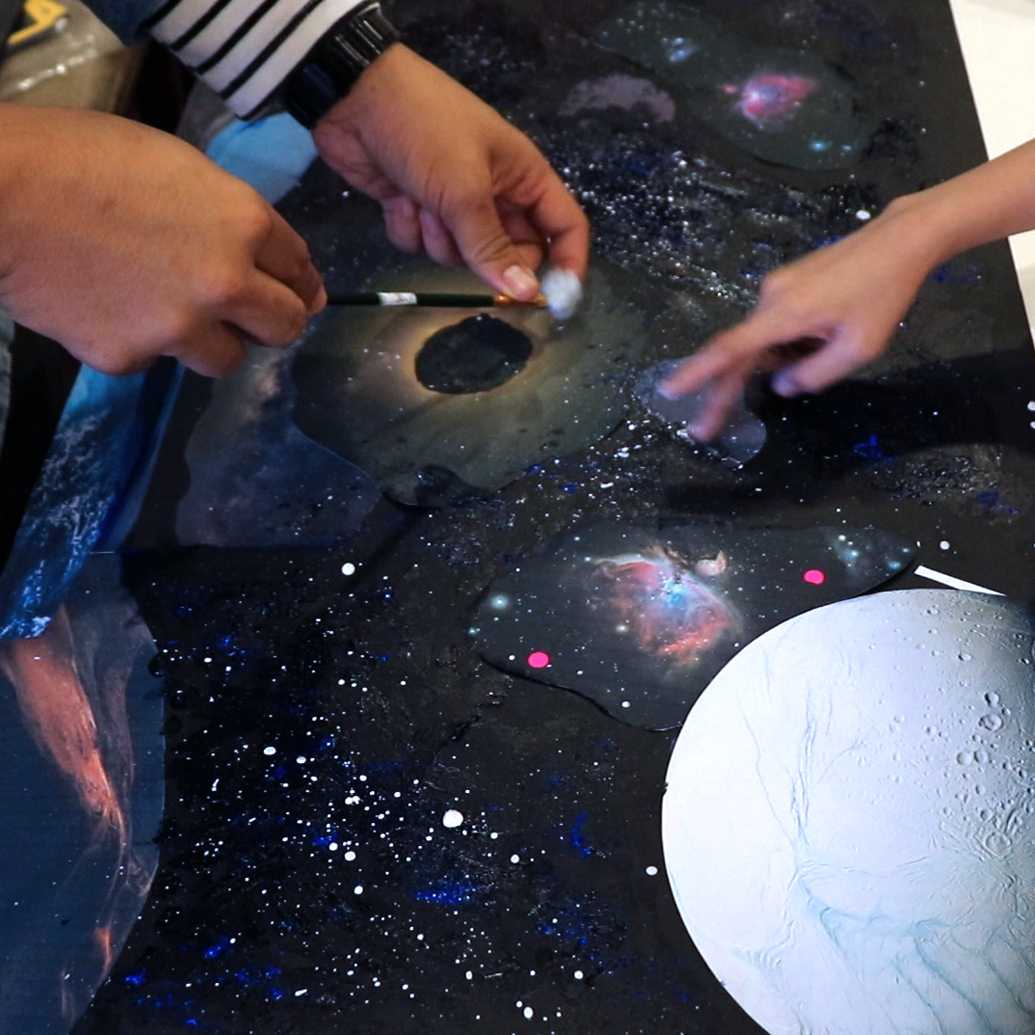 Imagining Our Futures In Outer Space Workshop, S.A.C. Art Lab, Chiang Mai

I gave the workshop 'Imagining Our Futures in Outer Space' at S.A.C. Art Lab, during which participants playfully explored creative, sensory, ethical and philosophical questions related to space such as: What does the ocean on another planet taste like? If you discovered an exoplanet, what would you name it? Can religion survive future discoveries in space? How do we protect the environments of other landscapes that we do not yet understand?

In the latter half of the workshop, we separated into smaller groups to each develop one component of a future encounter in space: a soundscape, an atmosphere, a landscape and a dialogue. In the end, all of the elements were brought together to create a 2 minute film vignette of a speculative scenario in outer space.

Photos taken at S.A.C. Art Lab, Chiang Mai 2018. Courtesy Lauren Reid
---
Bun Bang Fai, Yasothon


Bun Bang Fai is a traditional festival in Isan and Laos where rockets are launched into the heavens as an offering for a successful rainy season before planting crops. The pinnacle of the festival is the rocket launch competition where teams compete to build the furthest flying rocket.

I attended the raucous celebrations, including with a parade replete with beauty pageants, traditional dance and representations of Isan farming, as well as the rocket launch competition and post-launch mud wrestling. Here rockets take on a ceremonial role, however some believe that the rockets should be researched further for future space technology development.

Photos taken at Yasothon, 2018. Courtesy Lauren Reid.

---
UFO Kaokala, Nakhon Sawan
I joined the extraterrestrial believer group
UFO Kaokala
for some overnight trips to Kaokala, a mountain that is a hub for many extraterrestrial and paranormal phenomena. The group reports to be part of 5,000 ET-chosen humans who are taught to train their minds in preparation to help humanity after an inevitable apocalypse.
During my time with the group, I observed healing rituals in which ET energy was channeled through the mind and hands of the healer; participated in a group meditation to receive ET 'technology' to help others; and learnt about how their beliefs intersect with Buddhism.
Photos taken at Nakhon Sawan, 2018. Courtesy Lauren Reid.
Thai National Observatory, Doi Inthanon
I went with the
National Astronomical Research Institute of Thailand
(NARIT)
's lead exoplanet researcher and a visiting amateur exoplanet researcher from Canada to see NARIT's telescope (the Thai National Telescope) and research faciliities at Doi Inthanon National Park. Doi Inthanon is the highest mountain in Thailand, situated roughly 85km from Chiang Mai and the telescope is the largest of its kind in Southeast Asia.
Photos taken at Doi Inthanon, 2018. Courtesy Lauren Reid.
National Astronomical Research Institute of Thailand (NARIT), Chiang Mai
The
National Astronomical Research Institute of Thailand
(NARIT) is Thailand's newest and leading astronomical institute. Established in 2008 and officially opened in 2013, NARIT is part of a global network.
Their growing team of researchers specialise in, for example, cosmology, astroseismology and exoplanets. Additionally they have an extensive public outreach program. I have been interviewing them about their goals for astronomical research as well as their ambitions to increase awareness in astronomy (and by extension, science) in Thailand's general public.
Photos taken at NARIT, 2018. Courtesy Lauren Reid.
S.A.C. Art Lab and Residency Program, Chiang Mai
During 2018 I was curatorial resident at
S.A.C. Art Lab
, where I have been researching artists and filmmakers whose works relate to outer space. Interestingly, examples found so far make use of space as a metaphor to reflect the contemporary political context in Thailand.
Jedsada Tangtrakulwong's installation
Eclipse
(2017) draws a conceptual parallel between a solar eclipse and the death of the King Bhumibol on October 13th, 2016; while Chulayarnnon Siriphol's short film
Myth of Modernity
(2014) culminates in a cosmic scene where the central protagonist appears dressed in many guises - a protestor, monk, 'yellow shirt', 'blue shirt', pink shirt', Guy Fawkes - ascends to the heavens inside neon pyramids. We also find a mysterious smoking UFO in Apichatpong Weerasethakul's
A Letter to Uncle Boonmee
(2009). The short film subtly refers to the violent history of Nabua, where the Mekong River divides Thailand and Laos, especially the 1965 crackdown on communist sympathisers by the Thai army.
Finally, Prapat Jiwarangsan's series of drawings and sculptures, titled
Total Eclipse at Mars
(2017), connects the migrant history of Thailand with the historic solar eclipse of 1868. This solar eclipse is known as 'The King of Siam's eclipse' after King Mongkut correctly calculated and predicted the solar eclipse earlier and more accurately than any other international astronomer. The image depicted to the right presents an archival photograph of this 1868 solar eclipse, which is then etched over with the texture of the planet Mars.
Top left: Jedsada Tangtrakulwong
Eclipse
(install view) 2017
112 books and magazines, 21 forty watt bulbs, black ink, black spray paint, 3 B&W digital prints, 2 black dye mosquito nets, a studio setting (a table and a chair, one light bulb, a sketchbook, research papers)
Dimensions variable
Courtesy the artist
Top right: Apichatpong Weerasethakul A Letter to Uncle Boonmee (Still) 2009Digital 16:9, Dolby 5.1 Colour, 17:40 min.
Copyright the artist
Courtesy: Anthony Reynolds Gallery, LondonCommissioned by Animate Projects, London, Haus der Kunst, München und FACT (Foundation for Art and Technology), Liverpool.
Produced by: Illuminations Films and Kick the Machine
Bottom left: Chulayarnnon Siriphol
Myth of Modernity
(Still) 2014
Video, colour, sound, 16:00 min.
Courtesy the artist
Bottom right: Prapat Jiwarangsan
Eclipse at Mars
, 2017
Photograph, scraped on surface, 100 x 95cm
Courtesy the artist