---
Design: Keep it, Love it, Call it George
If your brain were a house, what would it look like?

I dreamed I was a house is an immersive exhibition curated by insitu collective that unlocks the psychological potential of the domestic home. In psychoanalysis, dreaming of a house is considered to be a reflection of one's self, whereby the individual spaces relate to different facets of our personality. In a similar direction, this exhibition overlays two types of 'interior spaces' – the mind and the home – so that the architecture of the home evokes the hidden depths of the human psyche: from the vortex of the hallway, to the social façade of the dining room, to the intimacy of the bedroom, and down to the shadowy subconscious, hidden in the basement.

Working within the historical building of Casino Luxembourg, insitu collective has invited six artists to create individual domestic environments or 'rooms'. These rooms form a metaphorical collage of a house that brings to life the emotional resonance of our most private spaces. The unique spatial and multi-sensorial experience that is at once familiar and surreal aims to trigger personal associations, memories and emotions that are held deep within ourselves.
HALLWAY


Upon reaching Casino's upper floor and entering the metaphorical house, you will first discover the Hallway, created by Ulla von Brandenburg. In dream analysis the hallway symbolises self-exploration. As in a real house, it is the entrance into a new intimate space, the beginning of a path. It can be a transitional phase or a journey into the unknown. Von Brandenburg's installation C, Ü, I, T, H, E, A, K, O, G, N, B, D, F, R, M, P, L, II creates an endless curtained tunnel in which visitors switch from the real experience of entering room after room to the repetition of this movement in a film. The film is narrated by a beautiful voice reciting a deconstructed passage of the poem "Conversations with a stone" by Wisława Szymborska: "I knock on the front door of the stone: – 'It's me. Let me in'. – 'I have no door,' says the stone."
Ulla von Brandenburg
C, Ü, I, T, H, E, A, K, O, G, N, B, D, F, R, M, P, L, II
, 2019
Dyed fabrics, ropes, wooden bench, super 16 mm film, colour, sound (10´)
Courtesy the artist, Art : Concept, Paris, Meyer Riegger, Berlin/Karlsruhe, Pilar Corrias Gallery, London and Produzentengalerie Hamburg
Photo: Andrés Lejona
Aurora Sander
À la carte
, 2015-2019
Mixed media
Courtesy the artists
Photo: Andrés Lejona
DINING
ROOM


Once you have passed through the hallway, you are guided into the Dining Room, where the family comes together and guests are welcomed. As the room for entertainment and hospitality, it also represents the border between the public persona and private self. However, as we know from the classical Kammerspiele, in the dining room passionate revelations can be made and lives can be changed over just one evening. Here, Aurora Sander's installation À la carte sets an open stage reminiscent of an idyllic island. An eight-course 'seafood menu' is served and shared with unidentified creatures waiting for their guests. The scenario is unsettled yet, one can never predict the denouement of the festivities in this aquatic universe.

BEDROOM


Following the vibrant social experience of the Dining Room, you will then sneak into the private realm of the Bedroom created by Julie Favreau. Behind its closed doors, intimate encounters take place and confidential whispers are shared. It is where we are our most physical selves – we snore, we drool, we sweat, we cum – and in the morning, the smell of our sleep permeates the room. Favreau typically creates environments with films, photographs, textiles and sculptures in which suggestiveness, the sense of touch and its relation to eroticism and desire play an important role. Through juxtapositions, close-ups, and disembodied familiar forms, Favreau's abstract sculptures hint toward a narrative without revealing its content. As a visitor entering into a stranger's room, you can feel yourself in the position of 'voyeur', even more so if you let yourself slide into the temptation of this dark and yet so sensual atmosphere.
Julie Favreau

Delicious Dive
, 2019
Video, installation, sculptures and photograph
Courtesy the artist
Photo: Andrés Lejona
Anna Hulačová
Sunshine heritage for sons and daughters
, 2019
Mixed media installation
Courtesy the artist and Hunt Kastner
Photo: Andrés Lejona
CHILDREN'S ROOM


Moving now from a very adult Bedroom to the Children's Room, you will arrive at the crystallisation of an invented universe. Here, a carpet can turn into an ocean, a stool into an iceberg, slippers into sea animals. Scale has no value, the physical limits of surrounding objects are always questionable and the voice of reason is an echo that fades. In Anna Hulačová's installation Sunshine heritage for sons and daughters, the artist draws upon a specific visual language that is inspired by traditional crafts, East European cultures and Czech folk traditions. Through this installation, Hulačová revisits aspects of her own childhood in which daily objects like agricultural machinery became natural playgrounds, combining them with Soviet, Futurist and Surrealist sculptural aesthetics.

STUDY


Closed off from the transformative worlds inside the Children's Room, you will come upon the Study – a hideaway space, designed for thinking, working and reflecting. It holds the potential for an escape from family life and is the only space left where big dreams can still be dreamed, a cigarette can be smoked in quiet or late working hours sustained. With Hands as Drawers, Alvaro Urbano presents the Study in a state of abandonment, shrouded in melancholy. Perhaps its emptiness points toward personal milestones that cannot be achieved and adventurous lives that can no longer be led.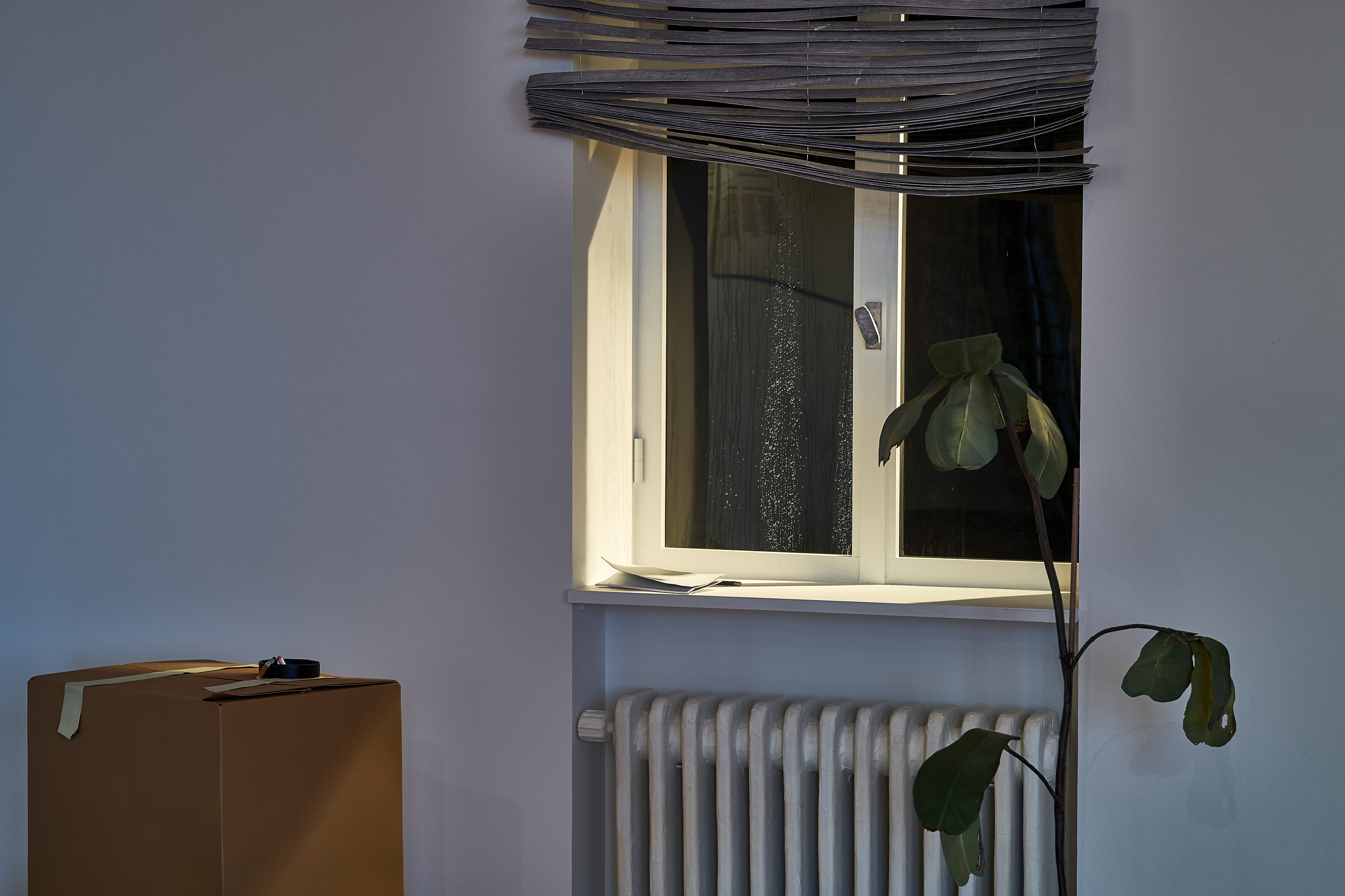 Alvaro Urbano
Hands as Drawers
, 2019
Mixed media, variable dimensions
Courtesy the artist and ChertLüdde
Photo: Andrés Lejona
Markus Selg
Child Unleashed
2019
Mixed media, variable dimensions
Courtesy the artist and Galerie Guido W. Baudach
Photo: Andrés Lejona
BASEMENT

Finally, in a closed-off space, you will find yourself in the Basement. If the mind were a house, the subconscious would be found here, containing the things that are stored away and memories that may have been forgotten. The basement represents primal urges, intuitive reactions and basic needs. In Markus Selg's interpretation, instead of a dark and musty space, you might be surprised to see the walls painted in fluorescent yellow, a floor of psychedelic galaxies, covered with children's toys and plastic bones. With his work Child Unleashed, the artist takes us deep into his own subconscious to present stations of his journey through life, arranged in seemingly no order but all coming together to reflect what may be floating around internally. 'Courage' stands like a mantra on a hanging poster on the wall – the title of his first gallery exhibition. Further, the children's toys strewn on the floor could be either from his past or his own daughter, who reminds him just how it is to play and to rediscover the world every day.

Press
La maison rêvée, Céline Coubray, Paperjam, 8/6/2019
Bienvenue chez eux!, Grégory Cimatti, Le Quotidien, 8/6/2019
Tablo, Josée Hanse, d'Lëtzebuerger Land, 7/6/2019
I dreamed I was a house, D'Zeitung vum Lëtzebuerger Vollek, 1/6/2019
I dreamed I was a house, City Magazine, Luxembourg, June 2019